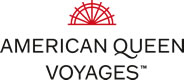 American Queen Voyages, formerly American Queen Steamboat Company, offers overnight cruises aboard authentic paddlewheelers on the Mississippi River and its tributaries and on the Columbia River in the Pacific Northwest. Ship decor exudes Americana, with gingerbread trim and lacy filigree adorning the decks.
Cruise fares include a pre-voyage hotel night, shore excursions, regionally inspired cuisine, daily entertainment, 24-hour room service, Wi-Fi access and unlimited soft drinks throughout the trip. Enjoy spirits, wine and local craft beer -- all included with your cruise. Themed sailings feature special activities that focus on Civil War history, musical interests and other topics.
Trip ratings on this site are based on the quality of accommodations, the number of included meals and activities and the level of service delivered. American Queen's vacations are categorized as deluxe on the industry rating scale (budget, first class or deluxe).

In addition to river cruises, the line also sails in Alaska, the Great Lakes and other coastal regions in the U.S., Canada and Mexico, visiting inland harbors, secluded bays and remote ports that larger ships can't reach. To see itineraries and prices for the company's ocean and Great Lakes cruises, click here.